Impact Theatre Productions
https://youtu.be/9VXal4r3UwM&rel=0
Wizard of Oz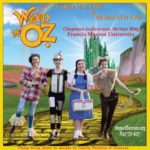 Here you can place an order for a DVD of the "Wizard of Oz" Impact Theatre play video recording.
You will also have the option to download a copy of the HD video file for playback on your computer or TV. (for those who do not have a DVD player)
---
Dance Showcase
Here you can order a DVD of the Dance Showcase. An HD video file for this performance will also be available.
---
NOTE: The file and DVD will be available approximately seven days after the performance. You will receive an email on where to download the video file when it is ready.